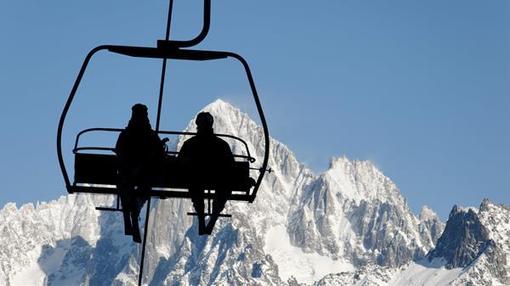 It was an early morning in March 2015 and frighteningly cold, with whiplash winds treacherous even by the standards of central Vermont's Mad River Valley. From their perch at Sugarbush Resort, Christine Dodson and Sascha Mayer plotted their plan of attack.

The two co-founders were looking to raise money for Mamava, an early-stage startup that sells lactation "suites" for nursing mothers in public spaces like airports and sports stadiums. They had a competitive advantage: Dodson, a "killer" Alpine skier, pitched investors on the chairlift — "like speed dating," she says now — then rocketed down the slopes to get back in line, increasing the chances of landing the next Daddy Warbucks. Meanwhile, Mayer, who wasn't as keen a skier but had mastered the team's elevator pitch, worked the lodge for investors deterred by Mother Nature.

UNCONVENTIONAL SETTINGS FOR BUSINESS PITCHES CAN BE AN ADVANTAGE FOR SAVVY INVESTORS LOOKING FOR THE NEXT FACEBOOK WHERE COMPETITORS ARE NOT.
What brought them to the wilds of Vermont is part of a growing trend — pitch events that are held in decidedly nonbusiness settings. The point is to get people out of suit-and-tie meetings where startup souls go to die, and start getting entrepreneurs used to selling themselves in more natural — albeit often adrenaline-infused — environments. In the past, investors might work university tech fairs for fresh talent or go to large-scale conferences, but nowadays, "what they're doing is participating in events," says Cairn Cross, managing director of FreshTracks Capital, which runs Peak Pitch, where Dodson and Mayer did their tag team, and Road Pitch, an annual summer event where motorcycle-riding investors visit 10 towns across Vermont, hearing pitches at each one.

Following the template of Peak Pitch in the Green Mountain State, chairlift-inspired pitch events have emerged everywhere from Albuquerque, New Mexico, to Sandpoint, Idaho. And capital-seeking entrepreneurs aren't just heading for the ski hills. This summer Alexandria, Virginia, helped more than a dozen Beltway startups make their pitches to VC reps aboard a charter boat on the Potomac. The SunDown RunDown series operating in six Ohio cities has budding business folks conduct pitch-and-Q&As in local bars.
Sourced through Scoop.it from: www.ozy.com